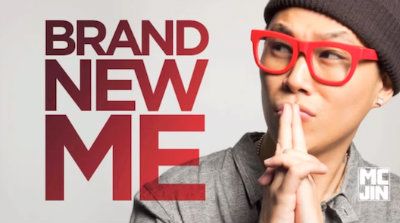 Jin has been making a mark on Christian hip hop the last year and a half. He has put out a lot of quality music. To continue that trend he has put out the Brand New Me EP. We are going to first look at lyrical quality, album flow, and finally – lasting impressions.
Lyrical Content
When I look at MC Jin's skill set I can say he brought most of his tools to this album. While there is not that "black out/go raw" track, there is still a lot of solid stuff here. The song "Feel Good" is as close to a banger you get. If you are looking for a good song to ride to "Going Places" gives you that cosmic feel. That is not to knock the song; it goes hard. If you are looking for some mellow tracks you can check out "Apologies" and "Number One." In "State of Mind" MC Jin talks about money, how he is not Illuminati, and how Christ brings him to wisdom and understanding. Compared to all the other work I've heard from Jin I will say he just didn't have enough tracks on the album to bring everything he has to offer.
Album Flow
When we listen to the album flow it hits lots of the basic and advanced elements of hip hop. From the first track "Brand New Me" to "Feel Good" you will ride a moderate emotional wave. You don't have enough time to go through emotional high and lows. I'm glad the album just tries to take you from a paced start, to a moderate low, and ends on a nice high. The total message tone stays on point of being Christ-centric and the mood of the project is a display of progress from his last album – Crazy Love Ridiculous Faith. You can hear it in the beats and in the subject matter.
Lasting Impressions
We are dealing with an artist in the middle of reinventing himself. When you listen to "Apology" it is evident that MC Jin is still thinking about and processing everything he has done in the past. I think that this lamentation is positively and negatively impacting his work..
The great way it is affecting his work is that he is going hard for his older fans and trying to win them over to a Christ-centric worldview. This is a great missional outlook that is worth praising. He is leaving the 99 (normal Christian hip hop audiences) to go after the one (former fans and others that just might know him from shows overseas).
The bad seems that it seems that MC Jin still sees himself as "Jin with Ruff Ryders." There is a lot of apologizing and, at times, it feels like he hasn't forgiven himself fully. He is a new creature made alive in Christ and I can see honest growth in him. I know from interviewing him that he sees the same in himself, but I wonder how clearly. This is not a slam or beef starting here, but I think for MC Jin to move forward he has to forget the things that are behind.
Conclusion
All in all I give the EP a 3.5 out of 5. While this is not MC Jin's best work, it is by far a progression from Crazy Love Ridiculous Faith. He has a lot of solid mature tracks that you can share with a lot of people. This album is for someone who wants something different from Christian Hip Hop.
Thanks for reading. Check out my blog speakingtheredwords.blogspot.com for more of my writing.
Categorical Ratings Breakdown:

Originality/Creativity: 4/5
Lyrics: 3/5
Delivery: 3.5/5
Beat Selection/ Production: 4/5
Concept/ Arrangement: 3/5